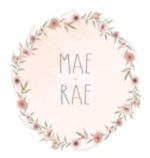 MAE AND RAE
Handmade hair accessories
Mae and Rae was started by Corine Phillips at the start of 2016 when she was working part time in Real Estate.
Corine's daughter's Clover Mae and Talulah Rae are her biggest inspiration and after always wanting to try something creative, Corine learnt to sew – that is how Mae and Rae evolved.
Developing her small business has allowed Corine to meet so many amazing mums and business owners and says seeing so many beautiful babies wearing her creations is special and rewarding.
Oh My Golly Gosh feels very lucky we get to stock such a lovely product from a fantastic small business like this one!